Grace Co-operative Credit Union Education Grant Awards Ceremony 2023
Grace Co-op Credit Union Limited (GCCU) hosted its Annual Education Grant Awards ceremony on September 19, 2023, in the Multifunction room at 73 Harbour Street, Kingston. Four Hundred and Thirty-Five Thousand Dollars ($435,000) was awarded to thirteen (13) scholars who performed well in the PEP, CSEC, CAPE examinations and maintained a high GPA during the academic year 2022/2023. In addition to academic performance, the awardees were also selected based on participation in extracurricular activities, conduct, attitude, punctuality, and attendance.
Guest speaker, Counselling Psychologist at the Grace & Staff Foundation, Dr. Curtis Sweeney, cautioned the awardees to be careful of mainstream ideologies about education and encouraged them to embrace the concept of being "fully bright, fully focused". Dr. Sweeney gave the students and parents five principles to success in education: "positive mindset, purpose, planning, persistence and parenting".
The President of the Board of Directors, Mr. Samuel Shelton, congratulated the awardees and their parents on their outstanding performance and expressed Grace Credit Union's commitment to helping members to achieve their financial goals.
Mrs. Katrina Grant-D'Aguilar gave greetings from the Credit Unions of Jamaica. She mentioned that in keeping with the fifth cooperative principle of "education, training and information," the 25 credit unions in the movement have invested heavily in providing financial support towards education. To date, the Credit Unions of Jamaica have collectively awarded over $20 million in bursaries and scholarships island wide.
General Manager Makeda Scott encouraged parents to educate their children about financial literacy before they enter the working world. She also advised parents to give their children a head-start by opening an account with Grace Credit Union.
GCCU awarded 13 grants as follows:
PRIMARY EXIT PROFILE (PEP)

Name of Student

Name of Parent

Company

David Allen

Matthew Allen

Grace Foods & Services

Arijana Meade

Abihail Matthews

First Global Bank

Tahir McDonald

Noven McDonald

CMA CGM Jamaica Ltd

Ikya Atkinson

Natresha Edwards

Hi-Lo Food Stores

Kymani Martin

Sandy Rhoden

World Brand Services

Samuel Phipps

Nickaela Phipps

Hi-Lo Food Stores

SECONDARY

Matthew Groskopf

Wayne Groskopf

CMA CGM Jamaica Ltd

Juliet Smith

Wayne Smith

GK Foods UK

Brianna Redwood

Melvin Redwood

Hi-Lo Food Stores

Mickaylia Smith

Oswald Smith

GK Insurance

Jonathan Mahfood

Caroline Mahfood

GK Foundation

TERTIARY

Glendon Clarke

Jacqueline Maragh




Avielle Sterling

Alphonso Sterling

CMA CGM Jamaica Ltd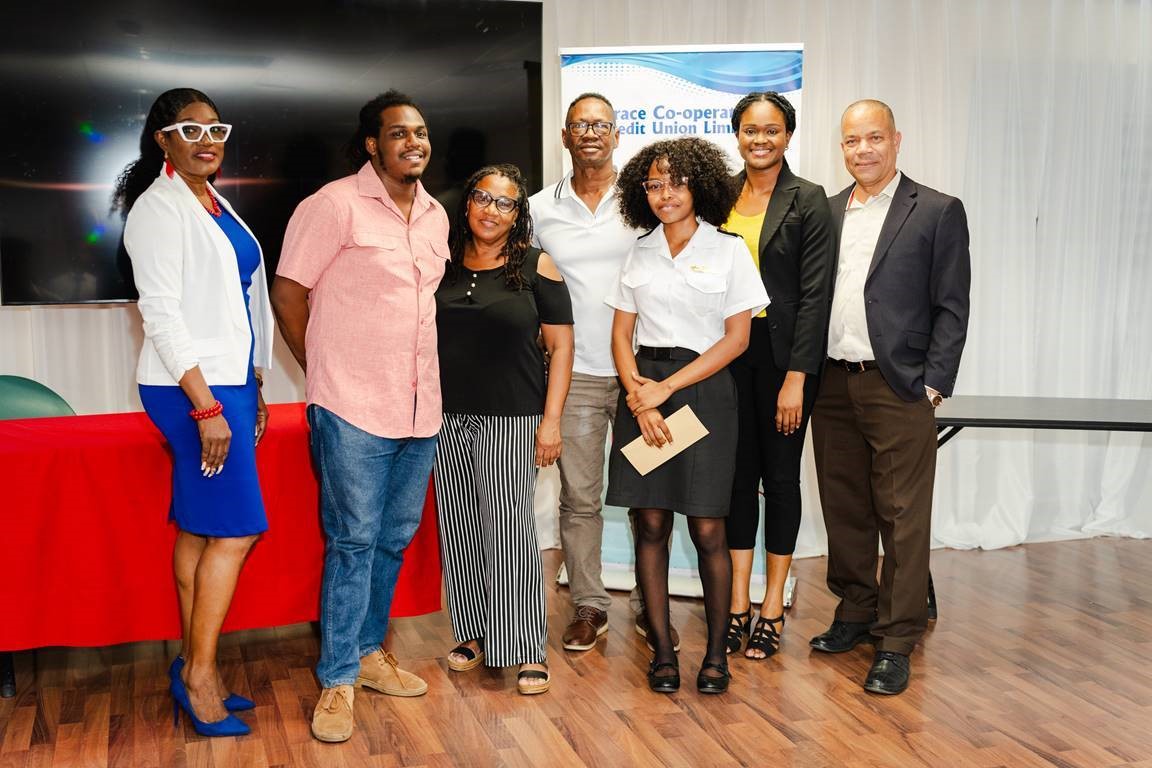 Customer Service
Our customer service agents are courteous and willing to assist you find the right product or service that you desire.
Savings
We have a wide range of savings options to suit your needs
Online Banking
View Balances
View Loan Documents
Withdrawal Request
Upload Loan Applications